Washington and St Helena
This is another unusual Meridian as it is two. The base line is the Louisiana/Mississippi border. The Washington Meridian goes north and regulates Mississippi while starting at the same point The St Helena meridian travels south into Louisiana.
Submitted by:
C Albert White
Posthumously
1926-2008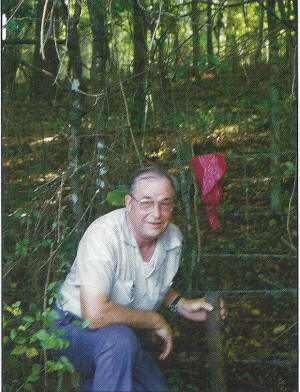 Photo Credit: Initial Points of the Rectangular Survey System by C. Albert White. Used without permission
As previously mentioned on this site Albert White is probably the foremost expert on the Initial Points of the United States. His book is the "bible" researching all of the available field notes, history and then personally visiting each site where possible.
At this site along with a few others there are no relics of the original markers and re-monumenting has not occurred. Mr White states in his book that this Iron pipe was near the monument but the principal meridian was not found.